Successes in the quarantine league
(A report by Andreas Jagodzinsky, 07.06.2020)
A little bit the quarantine league on our homepage has fallen behind.
This is due to many reasons, among others of course the Romanian online championship.
After we were able to play our way through to league five, but were relegated there and couldn't come back, it looked as if further successes shouldn't be possible anymore, also in view of stronger and stronger newcomers.
But the last two matchdays brought two more promotions, so that today at 8pm with the fourth league a new highlight is waiting.
On Thursday before last, we played for promotion, but it was the disastrous performance of the author of this article in particular, who went on to record an impressive series of defeats, that prevented success.
But last Sunday we reached second place in league six and thus promotion.
Marcus Schmücker played for the first time, but contrary to previous announcements he decided to play in the 3+0 mode.
For me, however, Marcus' entry shortly after the official start of the tournament was the sign that something might work that evening.
And it actually worked for us. But it wasn't Marcus, but his neighbour Mirco Wagner who scored the most reliable points that evening.
Alessia Ciolacu and Martin Grürmann also scored over 50 points that evening.
And so it went on last Thursday in league five.
I was extremely sceptical because Alessia and Luminita Cosma were still active in the Romanian championship, Moritz Runte didn't have time and shortly before the tournament started there weren't too many players in the team. Marcus was not there either, nor was Mirco.
But suddenly Timo Leonard showed up and Luminita, like Alessia, joined the team after her semi-final appearance.
Timo and I stayed in the top 10 of the league the whole evening, so Hemer swung between first and second place early. At some point we took over the lead and initially extended our lead to the first non-placed, namely fourth.
After two hours, we had enough for the victory and the promotion to league four, where we will continue today. If you look at the opponents there, it's all about keeping your class.  
The promotion to the 5th league
(A report by Andreas Jagodzinsky)
Four times we played in the quarantine league so far, four times we climbed up.
Recently we were called the "most female team of the quarantine league" on the "Perlen vom Bodensee" (https://perlenvombodensee.de/2020/05/07/grossmeisterliche-fremdgaenger/).
Of course you can't really determine that exactly because of the not always clear identities behind the usernames used, but even I would be surprised if there was a team with more women and girls. We have never been less than four players. From the Women Bundesliga team our grandmasters Luminita Cosma, Carmen Voicu-Jagodzinsky and the youth players Alessia Ciolacu, Valerija Naumenko, Catriona Dartmann Aubanell and Linda Becker have already taken part.
Alessia Ciolacu and Linda Becker have been particularly active online for the past two months.
Even if partly overlapping, the second big block is made up of the youth players, who are much more experienced than the older players, especially in the fast reflection times such as 3+0 or 3+2. Moritz Runte, Timo Leonard and Alex Poggemann are regularly involved and score successfully. And even our youngest player, Lukas Jagodzinsky, is adapting to the level and winning a few games.
The team captain is Marc Störing, who is supposed to represent the older players here.
In league 6 you could already see from the line-ups of the other teams that it could get harder this time.
But despite weaker performances by some of the expected top performers (I myself lost three games in a row at the beginning of the tournament), Moritz in particular kept us on the path to promotion at the beginning. In spite of the school leaving exams this week he played and only slackened a little at the end.
After we had landed before the Indian players of Rising Phoenix on Sunday before the tournament, they distanced us clearly despite our interim lead. But in the end we finished second and climbed up again: https://lichess.org/tournament/NcJpTv98
On Sunday we will see many new teams, because this time the ascenders were divided into different groups: https://lichess.org/tournament/aRzxZOsU
Quarantine League Class 7 - the triumphal march has continued!
(A report by Marc Störing, May 10, 2020)
We managed an impressive climb a league higher. The game was played in mode 3 + 2. This time finally in front of Rising Phoenix, which is good in view to rise to the higher leagues. With today's time mode, our older players could play their experience this time, or at least some of them tried; o)
| | | | |
| --- | --- | --- | --- |
| 1 | Schachverein Hemer |   | 293 |
| 2 | Rising Phoenix |   | 241 |
| 3 | SK Neumarkt |   | 154 |
| 4 | Chess-King_Master |   | 142 |
| 5 | Alcaudeteclub |   | 138 |
| 6 | Schachjugend Baden |   | 137 |
| 7 | Turm Schiefbahn 1931 |   | 113 |
| 8 | TSG Eisenberg Schach |   | 80 |
| 9 | FM jeffforever fan Club |   | 2 |
| 10 | SaufenKönnenWirBesser |   | 2 |
On Thursday, May 14th, 2020, the game will continue in League 6 around 8:15 p.m .:
| | | | |
| --- | --- | --- | --- |
| 1 | Schachverein Hemer |   | 293 |
| 2 | Rising Phoenix |   | 241 |
| 3 | SK Neumarkt |   | 154 |
| 4 | Chess-King_Master |   | 142 |
| 5 | Alcaudeteclub |   | 138 |
| 6 | Schachjugend Baden |   | 137 |
| 7 | Turm Schiefbahn 1931 |   | 113 |
| 8 | TSG Eisenberg Schach |   | 80 |
| 9 | FM jeffforever fan Club |   | 2 |
| 10 | SaufenKönnenWirBesser |   | 2 |
---
Quarantine League Class 8
(A report by Marc Störing, May 7th, 2020)
As hoped, it was easier to climb this time. This with a very closed team effort and slightly increased with 18 players.
By the way, a different time mode is played on every turn. This time with three minutes for the entire game.
It was particularly noteworthy that our youth talent Alessia contributed almost 20 % of our points.
Here is the final table of our second appearance:
Quarantäne-League 8C
| | | | |
| --- | --- | --- | --- |
| 1 | Rising Phoenix |   | 450 |
| 2 | Schachverein Hemer |   | 321 |
| 3 | TSG Eisenberg Schach |   | 128 |
| 4 | RSV Heuchlingen |   | 93 |
| 5 | Philippine Blitz Chess Arena |   | 81 |
| 6 | Schachverein Dresden-Striesen |   | 35 |
| 7 | Horsey |   | 31 |
| 8 | TV Borken |   | 0 |
On Sunday, May 10th we continue at around 8.15 p. m in league 7
| | |
| --- | --- |
| 1 | Alcaudeteclub |
| 2 | Schachverein Hemer |
| 3 | SK Neumarkt |
| 4 | Chess-King_Master |
| 5 | TSG Eisenberg Schach |
| 6 | Schachjugend Baden |
| 7 | SaufenKönnenWirBesser |
| 8 | Turm Schiefbahn 1931 |
| 9 | Rising Phoenix |
In preparation for the next round, which is played with three minutes plus two seconds per game, we play a blitz tournament on tomorrow´s (online) club evening with the same time.
---
Quarantine League Class 9 - Rise!
(Report from Marc Störing, May, 3rd 2020)
Our start was not a sure-fire success as other strong new teams were announced.
The league - we will certainly write more about this phenomenon in further reports, was formed in March when, due to the corona pandemic, game operations were no longer possible.
The rules, that the series rewards for example for the third victory in a row with double points, the possibility of playing a so-called - risky - berserk game (with half the time) are not very familiar to us from "offline" chess, but they represent a major challenge here .
On our first day of play we were able to have both: the number of players and the quality of them. SV Hemer started with eleven players and a good proportion of five further players from our female players who were promoted to the Bundesliga.
There were six "leader" scores. This means that the six best individual results of the teams were included in the evaluation. In the end we were represented here by two women and - by the way - the experienced captain of the team, who also leads the team from Hemer at the annual international 10-city tournament.
Ultimately, three teams are promoted. We just had to let the strong team Rising Phoenix (apparently of Indian origin) go first. The line-up of teams in the Quarantine League shows internationality, as for example the team Ajedrez Blanco y Negro (Spain), Kandy YMCA (Sri Lanka) proved. The teams Global Chess Club and Lichess Fandom were also positioned internationally, which makes the hurdle of the first ascent even higher.
Below is the final table:
| | | |
| --- | --- | --- |
| 1 | Rising Phoenix | 318 |
| 2 | Schachverein Hemer | 179 |
| 3 | TV Borken | 165 |
| 4 | SV 1947 Walldorf | 154 |
| 5 | Kandy YMCA | 137 |
| 6 | Ajedrez Blanco y Negro | 130 |
| 7 | Lichess Fandom | 117 |
| 8 | Global Chess Club | 60 |
The next matchday is on Thursday, May 7th, 2020 at 8:20 pm in the 8th league group C. Before it continues on the next Sunday. There will be seven leader ratings here. The two with ascended teams will also be there.
---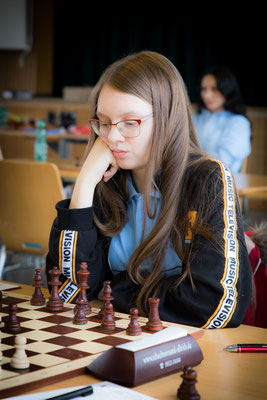 A short preliminary report on the international contest between Germany and Romania
Today, Saturday, Germany and Romania will compete in an online competition. First, the U18 teams will play against each other at 12.00 noon, before the adults will meet later.
SV Hemer's promotion to the Bundesliga would not have been possible without Romanian players. SV Hemer will also be represented in the junior duel with its best young player Alessia Ciolacu.
In addition, our chairman Andreas Jagodzinsky is "involved" on the German side as the competitive sports adviser of the German Chess Federation.
We have asked for some opinions in the club:
Carmen Voicu-Jagodzinsky, long-time Romanian national player, has the following to say on the question of who she is keeping her fingers crossed for
The best one should win. But when you've played for Romania for so long, it's hard to be neutral.
Andreas Jagodzinsky naturally sees things differently:
The German team is favored in the youth international as well as among the adults. I'm expecting and hoping for a victory for our team, and of course I'm also hoping for a good result from our Hemeran player Alessia.
Moritz Runte, who has already competed against some German youth national players and also played against Alessias opponent Jana Schneider in the last DJEM draw, got the upper hand against Alessia in the final of the online club tournament 14 days ago.
When asked about the chances he says:
I think that Germany should be the favorite in the youth international. It is not without reason that the ELO figures for the German team are far above those of the Romanian players. Furthermore, Germany has more (international) experience. At least that is my impression. But maybe we will be surprised and Romania shines with e.g. deep preparation. The German team is definitely under pressure and we will see if they can live up to their role as favourites.
His sympathies are clearly divided:
I keep my fingers crossed for the Romanian youth team because I find it boring to be for the favorite. Of course I'm especially for Alessia, because we've already played a lot of games together.
On the Chessbase server you can watch the match live from 12.00 noon.
Here is a preliminary report: https://de.chessbase.com/post/online-laenderkampf-deutschland-gegen-rumaenien